Doll (ドール, Dōru?) is a playable character from SaGa Frontier. She is an agent of IRPO.
Profile
Appearance
Doll is a young woman with purple-streaked brown hair that is spiked upwards. She wears a sleeveless white collared shirt. She wears a black tie. She wears a black bustier over the shirt. She wears black leggings accented with mechanical attachments by her legs. She wears a white leather coat trimmed with fur by the neckline. She wears black gloves with silver wrist bands and purple shoes.
Her sprite shows her with purple hair. She wears the sleeveless white collared while wearing the black tie. She wears a blue bustier, blue gloves and blue shoes. Her leggings are purple.
Personality
Story
Fuse told Doll about Red. She meets him in the port in Shingrow, and tells him she is looking for her brother in the ruins. Exploring the ruins, they come across Berva, and Doll tries to arrest him. Berva resists, and either runs away or captures the party, depending on whether or not they defeat him.
Regardless of the outcome in the ruins, Red and Doll challenge him to one final match in Shingrow Palace's arena. Doll stays with Red until the final confrontation with BlackX.
Gameplay
Other appearances
SaGa Compilation Trading Card Game
Doll appears as an obtainable card.
Gallery
Trivia
Doll's real name is Taris.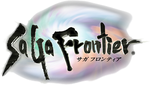 Gameplay

Mechanics

Lore

Other