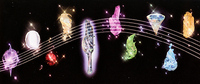 The Fatestones are legendary artifacts in Romancing Saga and Romancing Saga: Minstrel Song.
Created by Elore to aid the hero Mirsa in battle against Saruin, it is now up to Aisha, Albert, Barbara, Claudia, Gray, Hawke, Jamil and Sif to obtain them.
Each Fatestone can be equipped as a weapon, piece armor or a jewel/accessory and will enhance a particular type of spell, while nulling another. When equipped, the character will recieve a +1 bonus to all stats.
List of Fatestones
Here's a list of Fatestones, their spell type, the spell type they negate, the equipment slot they occupy and the quest to obtain them.