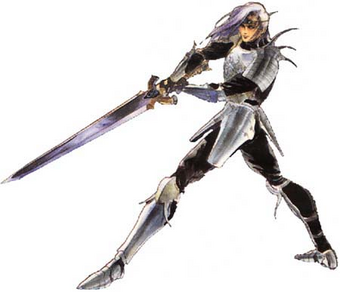 The Light Infantry (帝国軽装歩兵, Teikoku Keisōhohei?) is an obtainable unit in Romancing SaGa 2. The Light Infantry are composed of men and women. The main representative of the class is James.
Light Infantry are one of the first playable units in the game. If not already in the party, Light Infantry may be recruited inside Avalon Castle.
Overview
Light Infantry (M)
Gender: Male
Race: Human
The male Light Infantry is part of your starter party through James. They are generally treated as the jack of all trades. Their stats tend to be slightly above average but like their jack of all trade status, lends himself poorly to specialization. In the early sections of the game, the male Light Infantry characters will form the backbone of your greatsword users.

Light Infantry (F)
Gender: Female
Race: Human
Female Light Infantry, much like their male counterpart, tend to be jacks of all trade. They do, however, start with slightly higher skills than their male counterparts. They are also more consistent in terms of their tech sparking types. She's recruitable from the very beginning.

Stats
Male
File:RS2 James Sprite.png
James
''' (

ジェイムズ

Jeimuzu

?

)
File:RS2 John Sprite.png
John
''' (

ジョン

Jon

?

)
File:RS2 Richard Sprite.png
Richard
''' (

リチャード

Richādo

?

)
File:RS2 Herbert Sprite.png
Herbert
''' (

ハーバート

Hābāto

?

)
File:RS2 Harry Sprite.png
Harry
''' (

ハリー

Harī

?

)
File:RS2 Ronald Sprite.png
Ronald
''' (

ロナルド

Ronarudo

?

)
File:RS2 Dwight Sprite.png
Dwight
''' (

ドワイト

Dowaito

?

)
File:RS2 Franklyn Sprite.png


Franklyn


''' (

フランクリン

Furankurin

?

)
Female




Lisa


ライーザ

Jessica
ジェシカ

Shirley
シャーリー

Audrey
オードリー



Judy


ジュディ

Grace
グレース

Ingrid
イングリット

Greta
グレタ
Gallery

Trivia

The names for the male Light Infantry are based off historical American Presidents while the female Light Infantry names are based off historical American actresses.

Locations
North Varennes

Avalon

-

Somon

-

Sealed Cave

-

Watchman Nest

-

Goblin Hideaway

-

Ice Field

South Varennes

Nibel

-

Dragon Lair

-

Fiends' Cloister

-

Canal Fortress

-

Miramar

Ludon

Tefal

-

Gemstone Mine

-

Ludon Highlands

-

Aqua Lake

-

Cape Chalier

North Nazelle

Saigo Village

-

Mu Tundra

-

East Oubliette

-

South Oubliette

-

Nazelle Strait

-

Child & Mu Calf

-

Bardic Grotto

-

Ludon Highlands

South Nazelle

Nazelle Strait

-

Mu Habitat

-

Gelid Ruins

-

Snowdrifts

-

Den of Umbrage

Cumberland

Douglass

-

Castle Nerak

-

Hofah

-

Great Wall

-

Fort Cyfreet

North Longit

Miramar

-

Mobelm

-

Nuono

-

Messina Mines

-

Waterway Maze

South Longit

Toba

-

Atlanticus

-

Witch's Sanctum

-

Mermaid Sea

-

Sunken Ship

-

Maze of Memory

Steppe

Miles

-

Nomad Village

-

Landship

-

Lake Wyringa

Melu Desert

Bihara

-

Teretuva

-

Wandering Lake

Savannah

Ostro

-

Ponente

-

Gregale

-

Termites Den

-

Mole Village

Comroon Island

Tsukijima

-

Zemio

-

Mount Comroon

-

Seer's Citadel

-

Emerged Island

Salamat

Moulie

-

Amazon Village

-

Eirunep

-

Sunken Tower

Jauda

Yuyan

-

Liangshan

-

Chonto Castle

-

Mount Chikapa

-

Haruko Castle

-

Iris Village

Torrence

Mount Chikapa

-

Forgotten Town

Austeros

Loess Ruins

-

Firn Ruins