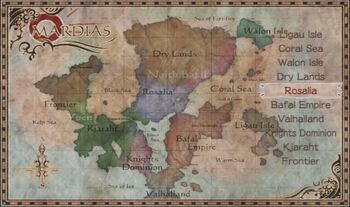 Mardias
is the world where
Romancing SaGa
and it`s remake
Romancing SaGa: Minstrel Song
is set.
History
Created by the God Marda, Mardias is a world filled with many races of mortals and Gods. The World of Mardias was nearly destroyed in the Great war between the Gods, which was instigated by the Three Gods of Evil. Many of the races of Mardias took sides with their respective Gods as the war ensued. Many of them died out or were brought to the brink of extiction like the, Gecklings, Giants and the Dragons. There were some that did not get involved with the war like the Taralians and Terranites. The war was brought to an end by Mirsa the Silver Warrior, his four Companions, who defeated two of the Gods of Evil, but perished in doing so.
The world was left a barren wasteland, marred by the battle beween the Gods. When Elore and Nisa saw the state of the world they vowed to never allow the Gods to do battle on Mardias again. Elore and Nisa brough life back to the world;
Regions
Advise
The simplest way to unlock (almost) all cities in Mardias is to recruit Sif, Barbara and Gray.
Gallery
Community content is available under
CC-BY-SA
unless otherwise noted.