Romancing SaGa Re;univerSe (ロマンシング サガ リ・ユニバース, Romanshingu Saga Riyunibāsu?) is a role-playing mobile game developed by akatasuki and published by Square Enix in 2018 for the Android and iPhone platforms.
The game is slated for a worldwide release in 2020.
How to Install
See also: Romancing SaGa Re;univerSe Guide
The game can be installed by accessing either the iTunes store with your compatible Apple mobile device or via accessing the Googleplay store with your compatible Android mobile device.
Gameplay
See also: Romancing SaGa Re;univerSe Guide
Romancing SaGa Re;univerSe is an RPG game with turn-based battles and exploration featuring an array of heroes from varying entries within the Romancing SaGa series.
Players can use in-game currency gems which allow them to summon heroes from varying games in the series. These heroes can be used in battles reminiscent of the Romancing SaGa series. The heroes can be equipped with weapons, armors and accessories. They also utilize skills reminiscent of their game of origin. The heroes can be trained in the Dojo using the experience accumulated from battle. Rather than leveling the heroes themselves, their Styles can be improved in the Dojo with the experience. The same hero with a different rarity can access the skills of the varying rarity through sharing their style. Style is what allows similar heroes to share their abilities and experiences. Leveling up Style will allow for stronger heroes.
Heroes can also go on expeditions which allow the player to receive items while also increasing the stats of the selected heroes in the process.
Characters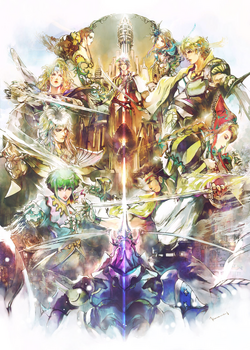 The game features several characters from multiple games spanning the entire SaGa series.
Development
The game had its global closed beta released on 3/25/2020. All accounts made during the closed beta will be wiped following the beta's end.
Packaging artwork
Reception
The game is currently rated at a 4.2/5 on the Google Play Store and as a 4.5/5 on the iTunes Store.
Gallery
External Links
Community content is available under
CC-BY-SA
unless otherwise noted.