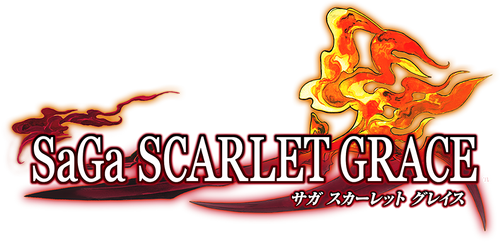 SaGa Scarlet Grace is the latest title in the SaGa series, released in December 2016 for the PlayStation Vita in Japan. The game was also confirmed for the Nintendo Switch, PlayStation 4, and PC to be released on August 2, 2018, which will feature a few enhancements to fix minro gameplay issues as well as additional story content. A few days later, Kawazu responded to a fan question on Twitter about an English release for the game, which Kawazu confirmed was in the works.
Story
Google translated from official site: http://www.jp.square-enix.com/saga_sg/story/index.html
God that was banished for criminalizing the star God "Fire Bringer".
The evil spirit comes back as a comet. The deceitful figures also start to rage, and the world falls into crisis. The star god gives power to one man. He sets out an empire to lead people and fight against "Fire Bringer". The devil was pushed back to the basement, the star of the evil spirit passed away. After that the stars of the evil spirits come back every 150 years. Emperor of times erupted "Fire Bringer" and the sadist. If there are emperors that will readily defeat the evil spirit without fail, Some emperors forced the world into the edge of destruction at the end of their carelessness.
Finally, with the seventh attack, the stars of the evil spirred up. The end of the 1000-year battle was ended. People delighted at the arrival of peace. The fragments of "Fire Bringer" rushed down to the ground, It was like a firework celebrating the victory of man and star god. If "Fire Bringer" disappears, the empire will be unnecessary. There is a rebellion in various places against the empire that continues to dominate. It leads to civil war by the emperor's sons. In the confusion, the emperor who was the hero who defeated "Fire Blinger" was assassinated, and the empire fainted without a doubt. More than 70 years since then. There were few people who knew the Empire era. The confusion of the world continued. Those who realize that a new crisis is approaching, It did not exist.
But in the times prepare the hero. A new hero in a new era.
Characters
Main characters
Supporting Characters
Videos