Welcome to the SaGa Series Wiki
The wiki about SaGa that anyone can edit

804 articles since December 2008 • Newest images • Recent changes
October 30, 2018

SaGa Frontier will be available for the PlayStation Classic in Japan!

September 19, 2018

During the Tokyo Game Show, the remaster of Romancing SaGa 3 was announced to be released in Japan early next year, along with a new Android/iOS multiverse game called Romancing SaGa Re; univerSe. [Click here for the official site and trailer.]
April 25, 2018
SaGa Scarlet Grace has been confirmed for release in Japan on August 2, 2018 along with "Harmony the Home of Life," a 352 page SaGa series artbook by Tomomi Kobayashi. A limited edition collector's box for SaGa Scarlet Grace is available for preorder on the Square Enix E-shop. It includes the game (PS4, Switch, or Steam), the aforementioned artbook, a special selection OST, a 1000-piece Kobayashi illustration puzzle, a serial code for Imperial SaGa, and a special postcard illustrated by Tomomi Kobayashi. For those living outside of Japan, it can be pre-ordered [here] with a deputy service. In addition, Kawazu has confirmed on his Twitter that there are plans for an English version of Scarlet Grace in the future. [Source]

March 9, 2018

SaGa Scarlet Grace was announced for the Nintendo Switch, PS4, Steam, iOS, and Android! It will be released in Japan later this year. [Trailer] [Official Site]

March 4, 2018

New theatrical performance "SaGa THE STAGE 〜七英雄の帰還〜" (SaGa THE STAGE ~Return of the Seven Heroes~) announced! [Official Site]

December 26, 2017

New Kenji Ito album [Re:Tune Romancing SaGa BATTLE ARRANGE CD] announced for release on March 14, 2018.

December 15, 2017

Romancing SaGa 2 has been officially released on the previously mentioned consoles. In addition, the [SaGa Orchestra Concert 2016 Live Performance CD] and [Imperial SaGa Official Art Works -Altermenos Records- Book] are now available for purchase on the Japanese Square Enix E-shop.

December 8, 2017

Square Enix recently announced that Romancing SaGa 2 will be available digitally for PS4, Vita, Switch, Xbox-One, and Steam/PC starting on December 15, 2017! [Link]

November 23, 2017

Akitoshi Kawazu announced on his Twitter account that the English version of Romancing SaGa 2 will be available on PS Vita and "some other consoles" this upcoming December! [Link]

June 18, 2016

The SaGa Series Retrospective concludes at long last! [Link]

May 9, 2015

The SaGa Series Retrospective has at long last reached the Playstation era! [Link]

December 20, 2014

A few days ago, a new SaGa game was announced. It's scheduled for release in 2015 for the PS Vita. [Link]

June 28, 2014

It's been a long time, but the SaGa Series Retrospective continues! [Link]

November 22, 2013

FarelTheGecko here, I wanted to inform you guys that I've began my SaGa series retrospective, it will take a long time to be made, but it might be worth your attention. [Link]

December 5, 2011

Romancing SaGa: Minstrel Song full character art added

July 12, 2011

SaGa Frontier 2 quests have now all been added in chronological order, along with bonus quests

February 21, 2011

Unlimited Saga side-quests have now all been added to the respective city and town locations of their origin.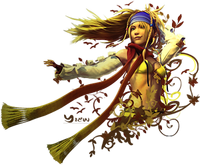 JRPG Games
Go to these sites for info or for help with your own wiki!
Aselia • Atelier • Breath of Fire • Chrono • Dinosaur King • Disgaea • Dragon Quest • EarthBound • Etrian Odyssey • Final Fantasy • Golden Sun • Hyperdimension Neptunia • Kingdom Hearts • Mana / Seiken Densetsu • Megami Tensei • Parasite Eve • Phantasy Star • Pokémon • Radiant Historia • Radiata Storys • SaGa • Star Ocean • Suikoden • Valkyria Chronicles • Valkyrie Profile • The World Ends With You • Xenoblade • Xenosaga • Yo-Kai Watch • Ys
Want your community included? See how!
See all of our JRPG gaming wikis!