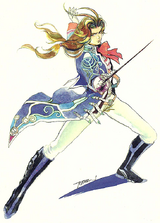 Silence is a male mystic in SaGa Frontier. He is an agent of IRPO.
His shadow became trapped in Omble while tracking a fugitive. If the player talks to his shadow during the Shadow Quest, Silence can be recruited once the player completes the quest.
Trivia
Silence is mute.
Mesarthim can not be recruited if Silence was already recruited.
Although Silence is related to the Shadow Quest, he doesn't have the Gift for Shadow Magic and cannot get it as well.