Slime (スライム) is a monster in SaGa Frontier. As its name suggests its starting form is a Slime, however as a monster it can transform into different forms. It joins the party after obtaining the Vitality Rune in Tanzer.
Profile
Appearance
Slime is a green blob monster with one eye.
Personality
Story
Gameplay
Trivia
Slime does not join Riki, as Riki never gets the Vitality Rune.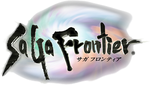 Gameplay

Mechanics

Lore

Other