South Estamir
is a location in
Romancing SaGa: Minstrel Song
.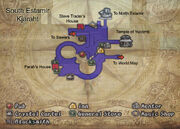 Located at the northern edge of Kjaraht, it is separated from North Estamir, Rosalia by a small sea inlet, the Bogasrul Strait. However, underneath both Estamir's is a series of sewer like corridors, the Estamir Tunnels, which allow free access to anyone willing to brave the monster infested depths.
South Estamir is a hub for slave traders, many of them kidnapping people from near and far and holding them prisoners somewhere in the city.
To unlock South Estamir one can:
Pub
Inn
The South Estamir Inn is one of the only ones in the game tied to a specific event. After a certain battle rank, an assasin will suprise your party and try to murder the protagonist as they sleep. Depending on some choices in the Pub, the Assasin is either an unknown person or a recognisable one.
Mentor
Training
Thief - Foil, Strategy, Search
Kjar Sentinel - Lance, Bow, Hydrology, Demonology, Covert
Estamirian Rebel - Martial Arts, Scimitar, Katana, Illusion, Search
Trader - Survival, Strategy, Trading
Entertainer - Long Sword, Martial Arts, Covert
Proficiency
Find Ore - Search - 50 G
Vigilance - Survival - 300 G
Lurk - Covert - 200 G
Disarm Traps - Strategy - 150 G
Pick Locks - Strategy - 150 G
Move Silently - Covert - 200 G
Ambush - Covert - 400 G
Crystal Cartel
General Store
Magic Shop
Pyrology
Hellfire - 200 G
Flame of Life - 300 G
Self-Immolation - 500 G
Hydrology
Healing Water - 200 G
Water Blast - 300 G
Holy Water - 500 G
Temple of Yucomb - Aerology
Blades of Wind - 240 G
Strengthen Pull - 360 G
Blood Curdle - 840 G
Summon Element - 1200 G
Missile Shield - 1440 G
Snowstorm - 4320 G
Community content is available under
CC-BY-SA
unless otherwise noted.