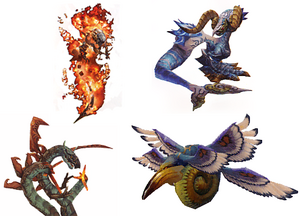 The Elemental Lords are four NPC characters in Romancing SaGa: Minstrel Song as well as the SNES original. Created by Saruin to rule one of the 4 elements that makes up the world. They in fact rebelled against their creator and assisted Elore in sealing Saruin.
They then chose to enter an eternal solitude so that their powers were never abused again.
The Ecology Quests reveal that these four now rule over the Mardias' Elemental landmarks, keeping the monster populations in check.
Once you clear the Ecology quests, all future playthroughs allow you to fail them. Doing so allows them to be possessed by the Minions of Saruin. Defeating the Dark Elemental Lords will grant the player unique weapons.
Pyrocanis: Cosmo Egg
Gigavi: Epic Hero
Kyllis: Destroyer
Slask: Chaosbringer
Videos