Yeoville is a location in Romancing SaGa: Minstrel Song.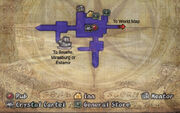 Nestled on the eastern shore of the Rosalia region, Yeoville is a small, coastal town with access to the Knights Dominion and the Bafal Empire.
To unlock Yeoville one has to recruit Sif or Albert, or take a ship from North Estamir, Bruelle or Mirsaburg.
Pub
Inn
Rest in the Lobby - Free - Restore all proficiencies
Standard Room - 25 G - Restore all proficiencies & LP
Superior Room - 75 G - Restore all proficiencies, LP and DP of untempered weapons
Deluxe Room - 150 G - Restore all proficiencies, LP, DP of all weapons & add 10 to First-Aid kit
Mentor
Training
Rosalian Officer - Long Sword, Club, Lance, Shield, Bewitchery
Rosalian Lancer - Short Sword, Pole Arm, Bow, Bewitchery, Search
Frontier Guard - Foil, Long Sword, Shield
Trader - Survival, Strategy, Trading
Entertainer - Long Sword, Martial Arts, Covert
Craftsman - Short Sword, Cosmology, Strategy
Proficiency
Find Chests - Search - 50 G
Disarm Traps - Strategy - 150 G
Pick Locks - Strategy - 150 G
Lurk - Covert - 200 G
Move Silently - Covert - 200 G
Ambush - Covert - 400 G
Crystal Cartel
Single Sword - 105 G
Walloon Sword - 378 G
Black Sword - 1522 G
Town Sword - 3465 G
Schiavona - 9450 G
Rosalian Saber - 2940 G
Mace - 945 G
Spear - 3780 G
Quarterstaff - 2520 G
Steel Gauntlets - 399 G
Parade Helm - 252 G
Rigid Leather - 3360G
General Store
Fleuret - 50 G
Leather Gloves - 30 G
Leather Boots - 90 G
Wing Amulet - 500 G
Quality Balm - 800 G
Drachenbrand - 7500 G
Novice Staff - 400 G
Holy Staff - 800 G
Mage's Robe - 480 G
Sage's Robe - 1400 G
Glamorous Ring - 500 G